Felicia Slattery is a Communication Consultant, Speaker & Coach.  A teacher and trainer for more than a decade at businesses, colleges, and universities all over Chicagoland, Felicia is a communication consultant and coach to entrepreneurs around the world. Felicia J. Slattery, M.A., M.Ad.Ed., is on a mission to motivate, inspire and train smart business owners and entrepreneurs to create meaningful connections through effective communication and public speaking.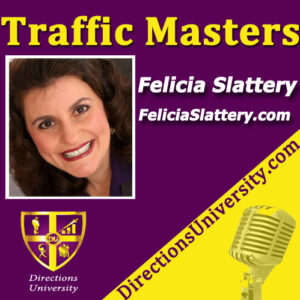 An internationally-acclaimed and award-winning professional speaker, a #1 best-selling author of Kill the Elevator Speech and 21 Ways to Make Money Speaking, and the creator of the trademarked Signature Speech™ system, Felicia presents to audiences large and small on topics related to communication, speaking, and being a successful entrepreneur.
As a cancer survivor, Felicia's enthusiastic passion for communication is contagious because she knows that one important message delivered with power can transform a life. She works with experts and entrepreneurs to help them more effectively communicate their messages on and off stages while building and maintaining strong relationships locally, nationally, and globally, both in person and virtually using the Internet. You can find out more about Felicia at FeliciaSlattery.com.
Felicia teaches service-oriented entrepreneurs on improving their communication skills in order to present their best image and see increased cash flow to succeed at work and enjoy happy and fulfilled personal lives.
Listen to past RADIO shows too!