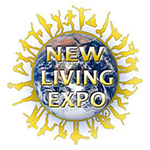 WomensRadio is delighted to be a Media Partner for the New Living Expo, which will take place at the San Mateo Event Center, April 25th through 27th, 2014 in San Mateo, California.  Jane Sibbett is an actress and best known for playing on NBC's hit TV Show, Friends, as "Carol," Ross' lesbian ex-wife.  Jane will be introducing the relatively new Mas Sajady (Pronounced Mahs Saw-jaw-dee), who is a healer, success activator, and divine conduit, to attendees at the New Living Expo.  Jane joins Speak Up! to talk more about how she became involved with Mas Sajady and how his healing works.
Click Here to Attend the New Living Expo!
PLUS, Click Here to Listen to a Special Message from the New Living Expo!