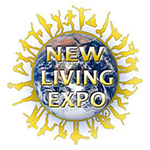 WomensRadio is delighted to be a Media Partner for the New Living Expo, which will take place at the San Mateo Event Center, April 25th through 27th, 2014 in San Mateo, California.  Gail Thackray is a psychic medium, author and host of the documentary series Gail Thackray's Spiritual Journeys, where she travels the world to share her experiences with legendary spiritual leaders and supernatural places.  Gail's key mission is to help people experience alignment with the "Divine Source" and to help them understand spirituality and its healing powers, thus, ultimately enhancing life, manifesting abundance, and healing those in need. Gail joins Speak Up! to share what she will be speaking about at the New Living Expo.
Click Here to Attend the New Living Expo!
PLUS, Click Here to Listen to a Special Message from the New Living Expo!