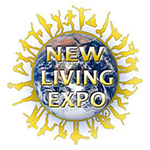 WomensRadio is delighted to be a Media Partner for the New Living Expo, which will take place at the San Mateo Event Center, April 25th through 27th, 2014 in San Mateo, California.  Laura Eisenhower is a Global Alchemist and Intuitive Astrologer and is the great-granddaughter of Dwight David Eisenhower.  She is on a profound mission to reveal our true origins connected with 'Gaia-Sophia' and works to liberate us from the Archonic systems and false power structures.  She will be presenting at the New Living Expo on Friday, April 25th at 9pm, and on Saturday, April 26th she will hold a workshop at 5pm.  Laura joins Speak Up! to share what she will be presenting at the Expo.
Click Here to Attend the New Living Expo!
PLUS, Click Here to Listen to a Special Message from the New Living Expo!