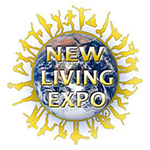 WomensRadio is delighted to be a Media Partner for the New Living Expo, which will take place at the San Mateo Event Center, April 25th through 27th, 2014 in San Mateo, California. Kathryn Chipman is the Assistant Producer for New Living Expo and she joins Speak Up! to share what people can look forward to while attending the Expo.
Click Here to Attend the New Living Expo!
PLUS, Click Here to Listen to a Special Message from the New Living Expo!