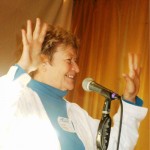 It is time that women seriously consider what they have promised to do on this planet. For too many generations girls and women have been taught to believe that they are too emotional and that they were so much less than the male that being silent, small, limited were the best contributions they could make. They have been made second class citizens.
What is missing the our world today is not a better balance between the traditional male and female qualities.
What is missing is the female mission and assignment to "birth the world, design the culture, retain the environment that would bring the highest good for all of life".
Susan Harmon host of, The Susan Harmon Hour,  gave Sharon Riegie Maynard the opportunity to share her conviction of the women's role, goddess assignments and what the world is thirsting for.
It is a long interview and so you may want to download the audio to your computer.
Learn More:
Women Emerging blog and the voice of Mother Earth
The Standing Together website
 Weaving requires more than one strand on the loom and is even more delightful with a variety of colors and textures. Weaving is alchemy. Cooking is alchemy. Collaboration is alchemy. Magicians, alchemy, cause something very common to be transformed into a higher, magnificent form. Join a women's circle!
What Can You Do?
Recipe and Alchemy Mixing love into your recipe elevates the "good" it brings into your body. Add blessings for your body into this yummy Body Butter recipe.
Copy and Tweet this message at Twitter   "Women are responsible for birthing a culture of Good!" http://wp.me/p1KmwD-6IW #women, #culturalcreative, #wtwmedia, #womenleaders, #wcffg, #ows
Copy and share on Facebook: "Sharon Riegie Maynard shares that women are responsible for designing and giving birth to a world that is Good for all of life."  http://wp.me/p1KmwD-6IW
Invitation: Read the Living Declaration that the Founding Mothers created at the March 2012 Women's Grassroots Congress 
Thanks to Kari Hillery for her marvelous music! One World Kari's website
And thanks to you for being in the audience. Without you, Weaving the World would not exist!
http://measuringwomen.blogspot.com/2013/11/womens-gatherings-greater-good.html