Fun and Fit grill Chef Laura Pauli for top cooking tips
Ready for some quick, easy, and delicious cooking insights from Chef Laura? Today we talk with Laura Pauli. We met her last fall at Rancho La Puerta spa in Tecate, Mexico where she is frequently a guest chef and cooking instructor.
How do you go from high-tech professional to high-temperature chef and cooking instructor? Laura Pauli knows because she left the world of dot coms to follow her dream: become a chef. After elevating her cooking skills via intensive classes, she moved to Europe, where she was a master chef and culinary instructor at the chateau in the Parisian suburbs where "Da Vinci Code" was filmed. She also was a chef at the Cannes Film Festival and on a lobster boat in Brittany.
Listen to Laura talk about how she went from very little knowledge of cooking to becoming:
a prop and food stylist for a PBS series with Jacques Pepin
a finalist for an Indie Excellence Book Award for her book about her adventures cooking in France
a guest chef and instructor at locales as diverse as Rancho la Puerta in Mexico to New York, Paris and Italy
Discover:
the one kitchen skill every cook should learn
at least 5 ways to make a boring dish more international and exciting
whether Laura recommends steaming or roasting your vegetables, and why
Follow Laura's story by getting her book My Keyboard for a Cutting Board ~ Adventures in a French Kitchen .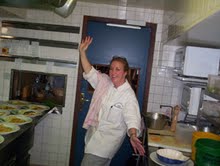 Laura Pauli's passion for all things culinary began when she spent many childhood hours in her Italian grandmother's kitchen, which always had a bubbling pot of tomato sauce on the stove. Taking the nickname her grandfather gave her as a child—"testa rossa," (which translates as "red head"), Cucina Testa Rossa, (the "Redhead's Kitchen") opened for business.
Please click to visit us at FunandFit.org, subscribe to our YouTube Channel, and follow us on twitter:@KymberlyFunFit and @AlexandraFunFit.  See our instagram pics at: @KymberlyFunFit and @AlexandraFunFit. We follow back!