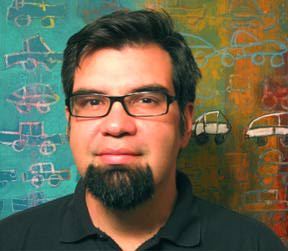 Downsized from teaching jobs led  artist Bob Medina and his wife Anna  to recreate their lives on the other side of the planet. Soon they found themselves in front of classes at a private school in Alexandria, Egypt with a schedule that allows them time to explore the world.
They returned to San Diego recently and recreated the experience of their neighborhood in Alexandria, Egypt at  the Voz Alta Project Gallery, filling the space with blaring radios, handbills and posters, food grilling and garbage piles, photographs and mannequins in traditional garb. The curator, Carlos Beltran drew the line at installing 50 live cats. Instead Bob circled the floorboard with life-sized, stenciled felines and set up a small fenced area with two, bleating goats – all based on his encounters walking and biking his Alexandrian neighborhood. Read more about the opening night of Where You From.
The current political upheaval in Egypt has been smooth for Bob and Ana, especially in Alexandria. Even while exploring Cairo recently they were able to witness the revolution at a safe distance. Read more at Camels and Tacos, chronicling the "misadventures of Bob y Ana".