Fun and Fit interview author and wellness expert Dr. Adam Bordes on Weight Loss Traps & Tips
Do you eat foods that are Famous for something? If so, what? Do you go for Fun food? Functional food?
Our guest, Dr. Adam Bordes, author of "Lighten Up: Daily Strategies to Living a Lighter, Happier, Healthier Life" suggests we consider giving foods a green, yellow, or red light in order to avoid the 5 most common eating traps.
When it comes to exercise, Dr Adam reveals the biggest exercise mistakes. He then makes it easy to remember 3 things to do to meet weight loss and fitness goals. Gotta listen to get to those 3 things though!
Have you fallen into some traps? Do you know how to get out of them and back on track?
First – check out this interview for balance, unbiased, clear advice;
Second – check out the free tips, workouts, reviews, and pointers from the American Council on Exercise (ACE).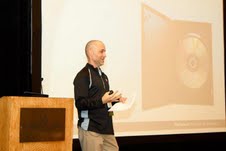 Dr. Adam Bordes is the founder of Lighten Up University,  former Senior Health Strategist for the American Council on Exercise (ACE), and a speaker.  He has provided insight to Fortune 500 companies, non-profit organizations, and universities nationwide. His expertise has allowed him to create effective exercise programs for a wide range of fitness levels and to design educational programs for fitness professionals. Tweet with him at @fitdoctoradam.
Avoid the trap of inaction by visiting us at FunandFit.org, subscribing to our YouTube Channel, and following us on twitter: @KymberlyFunFit and @AlexandraFunFit.  Try instagramming us: @KymberlyFunFit and @AlexandraFunFit.