"Why work hard to undo the bad things we do to our bodies, when we can be proactive about doing good things for ourselves?"
So asks, John Basedow, creator of the best-selling Fitness Made Simple video series and one of the top infomercial stars of the past 20 years. John is also a spokesperson for Mr. Steam, makers of the world's most luxurious steam showers and baths. We caught up with him to discuss the effects of steam therapy on active bodies, just before he appeared on Bravo.
Listen in to decide for yourself whether John is not one of the most energetic speakers you have heard on air.  He also shares a secret about how he gets his clothes to look good. No ironing involved. And you get  insider tips on prepping for a photo shoot, the beach, or a day when you need to look your "vacuum-packed" best.
John also brings up the benefits you can reap via a nice, steamy bath or shower. Think you know them all? We didn't. Which of the following are true?
Steam therapy (whether a shower or bath) will:
cleanse your skin
open your pores
provide a cardio workout effect
improve your mental life and outlook
reduce stress
boost your metabolism
reinvigorate tired muscles
help you take quizzes better
The Fun and Fit  bonus question we pose: Steam bath or steam shower? Which is the true John Basedow?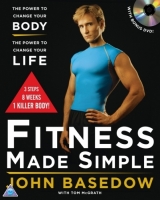 Follow John on twitter at @JohnBasedow. Join him on Facebook at https://www.facebook.com/JohnBasedow. Visit his website for exercise advice and motivation at FitnessMadeSimple.com
Take a peek at SteamTherapy to find out how you can live a high end, steamy, healthy life. You might recognize a couple of peopletwins over there!
Still looking for more good fitness sources? Our site (we humbly add): FunandFit.org, our YouTube Channel, and our twitter handles: @KymberlyFunFit and @AlexandraFunFit.
PS All of the listed benies are true except 3 and ???? Listen in to know for sure.