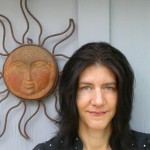 What are younger women learning from Tatyanna Wilkerson that they may not have heard from their mother? Tatyanna is helping them to see that even those experiences in their childhood and youth that were difficult, is helping to shape their lives. She holds a space for young women 18 to 24 who are looking for interactions with women they can trust and learn with.
Her diverse ethnic background has been a blessings as it has given her experience from family cultures that help her see the world in a unique way.
Smart Girl, Wise Woman website
Smart Girl, Wise Woman on Facebook
Suggestion: Learn how to create a circle of Smart Girls, Wise Women for the young women in your world
Invitation: Read the Living Declaration that the Founding Mothers created at the March 2012  Women's Grassroots Congress  Then, join the Intentional World of the EGG.
Invitation: Click my comment link and let's initiate some great conversations
Thanks to Kari Hillery for her marvelous music! One World Kari's website
And thanks to you for being in the audience. Without you, Weaving the World would not exist!