If you can't see the audio file, please download the Flash Player.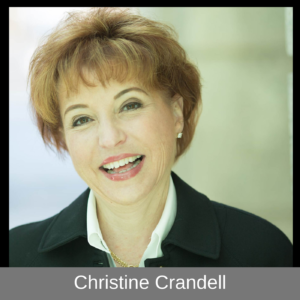 What will tomorrow bring? What will be the new normal? Are we going back to yesterday?  Christine Crandell tells us in a fascinating podcast on the 6 Megatrends of the New Normal! A frequent speaker, she is quoted in several books and has been awarded several industry awards. Christine has published over 300 articles on strategy, customer experience, sales and marketing alignment. She is also the author of Sellers' Compass®, a time-proven, a methodology for operationalizing customer experience by aligning corporate strategy, culture, and technology.
How will businesses operate in the post-COVID-19 environment?
Time will become the basis of competition.
Authentic human connections will redefine commerce.
Companies will organize around the customer.
Vigilant organizations will rise, driven by purpose.
Business models will shift from optimization and efficiency to agility and speed.
Global supply chains will restructure around proximity to demand.
Listen to her podcast as she explains each one – and helps portend the future!  You can read and download her paper on the 6 Megatrends at www.TrailBlazersImpact.com under Blogs.