If you can't see the audio file, download the Flash player.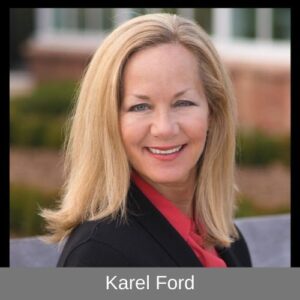 Karel Ford is the Director of Operations and Mentorship Coordinator for the Institute for Economic Empowerment of Women (IEEW) and specifically with their PEACE THROUGH BUSINESS® program. PEACE THROUGH BUSINESS® is an annual business training and mentorship program for women entrepreneurs in Afghanistan and Rwanda. The program is in its 14th year and is implemented through three major components — In-Country Education, Leadership Development, and Pay It Forward — which combine to create a continuing program to educate women, promote their business and leadership skills, build a strong public policy agenda in the women's business community, and to help build stable democracies.
Twenty businesswomen from each country are selected each year, after hundreds of hours of study in their own country, to participate in a Leadership Development Program in the United States. This requires a tremendous amount of coordination in travel, VISAs, housing, meals, speakers, program design, mentor matching, business shadowing and home visits across the U.S., and the final graduation ceremony.
How do you pull all this off with the COVID-19 restrictions, especially those that apply to travel?  That's the dilemma that Karel Ford faces in 2020 – hear her dilemma brought on by the COVID-19 environment – and hear her thoughts on how to solve the problem.