If you can't see the audio file, download the Flash player.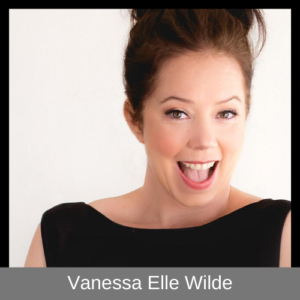 Vanessa Elle Wilde is the Founder and Director of O.Improv, an organization dedicated to helping leaders, teams and individuals deepen their self-confidence, gain fresh perspective, and be better collaborators by harnessing the power of play.  Her experience includes over 15 years of speaking, coaching, facilitation and adaptation of applied improvisation techniques for personal and professional development.  Vanessa's approach allows participants to discover and breakthrough communication habits that hold them back and fully step into their creative and collaborative selves in a safe and fun environment.
But . . . how do you use improvisation techniques to get through the crisis using Zoom? Vanessa Elle Wilde uses her youtube channel, The Wilde Show, and Zoom to bring her classes and jokes to create new outlets for her business. We are being forced to slow down and reassess. She coaches personal and professional development in mood, mindset and immune system. She tells about going to the doctor online and other changes and is ready to support others in adjusting their mindset. www.oimprov.com and thewildeshow.com. Vanessa's Happy Minute and the Mindset minute provide uplifting messages during COVID-19.  Nan and Vanessa talk about the innovations in grocery and other shopping – is this the new future? We may come to love some of these new ways of doing business!