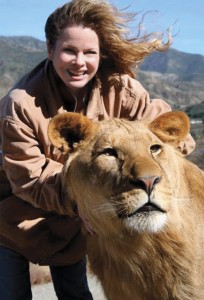 Amelia Kinkade is one of the world's most renowned animal communicators. Her clients include rock star Pink and movie stars Demi Moore and Shirley MacLaine. But Amelia's true passion is leading her annual Sacred Harmony Safaris in Africa and assisting organizations that rescue elephants, lions, rhinos and more. Through this work, she has been bringing animal communication from the realm of household pets to wild and endangered animals.
In her new book, Whispers from the Wild, Amelia paints remarkable portraits of exotic species from Great White Sharks in the cold oceans off South Africa to poisonous Black Mamba snakes in sub-Saharan African jungles. She not only shares their message to us but also how we can connect with the wild kingdom as well.
Hear her amazing stories of talking with tigers, listening to lions, sharing with sharks, and being with bees.
www.AmeliaKinkade.com