Show Host Rachel Moore and guest Bobby Foxworth,  a life and business coach discuss "Small Business Connections and Support – Part 1" Bobby has a unique way in connecting people who wants the products or services to businesses who have them and vice-versa.  She also connects businesses to other businesses. We all need each other and our show guest shares how to maximize those connections.
Show Guest:
Bobby Foxworth is a Certified Life and Business Coach, Entrepreneur, over 20yrs in strong sales, management and is fulfilling her desire as a Real Estate Associate. Bobby started her small business named Support Small Businesses "Connecting People To Businesses and Businesses To Businesses." Bobby saw there was a need to support other small businesses based on no support mining the store at times when she was out promoting her store front location businesses over the years.
Bobby was seen on social media and interviewed on radio shows and was asked to put on business networking events. I worked with some great businesses from Tampa, Bradenton, Orlando, Atlanta, London, Canada, Maryland etc. Gospel, Artist, Visual Artist, Authors and Business owners getting them heard on radio and on social media.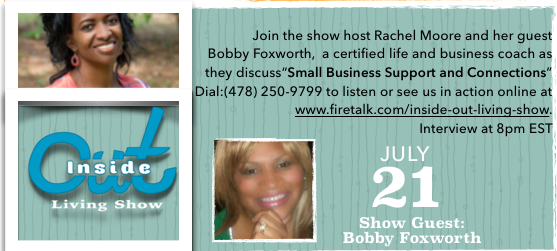 Inside Out Living Show Live :
Listen to Live interviews on the 3rd Thursdays at 8pm EST on  broadcast line (478) 250-9799.