Listen in on the conversation of show host Rachel Moore and guest Andre Harrison, an Author and Fatherhood Engagement Specialist as they discuss "The Four F's that Define Fatherhood" (Part 2).  We celebrated Fathers in the month of June.  Share this message with your sons and all the fathers you know so that they can be encouraged, inspired, and empowered.
Show Guest:
Andre Harrison, a Fatherhood Engagement Specialist.  His desire is to aid fathers in playing an active role in the lives of their children by providing them with resources to help them enhance their parenting capabilities.
Andre is a father of three sons who was raised without his father. He has authored a book called "From a Fatherless Father to His Sons," a guide for young men growing up without father, a help to single mothers in understanding their adolescent sons and a message to absentee fathers to encourage them to reclaim their role as a father. Andre travels, speaks and conducts seminars to young men and women, single mothers and fathers.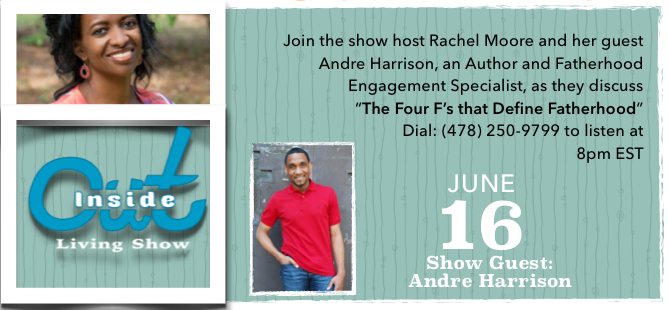 Inside Out Living Show Live :
Listen to Live interviews on the 3rd Thursdays at 8pm EST on  broadcast line (478) 250-9799.