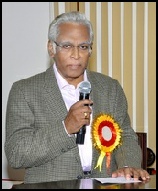 Founding Executive Director of the Goodwill Social Work Centre (NGO) in Madurai, India,  Dr. J. Christopher Daniel, M.A., PhD is currently serving as the Vice President/Director of
The Claire Power Murphy Foundation, Inc.
With his wide academic professional experience in serving for thirty eight years as a Professor of Social Work and Human Resources Management, Dr. Christopher has trained hundreds at the post graduate level in professional social work practice, social entrepreneurship, human resources and NGO management.
As a free lance writer he has to his credit moré than 150 articles on various social issues including childrens rights and human resources management issues published in national and international journals, books, web magazines and websites.
He has widely traveled abroad to present scientific papers at international conferences and seminars.
Dr. Christopher is a winner of the Unltd World (UK) Global Impact BRIC (Business, Resources, Insight and Community) award 2009 for social entrepreneurship.
Further, he holds a certificate on childrens rights awarded by the University of Ghent, Belgium in 1996.
http://www.cpmfoundation.net