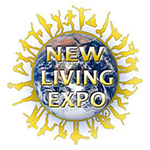 WomensRadio is delighted to be a Media Partner for the New Living Expo, which will take place at the San Mateo Event Center, April 25th through 27th, 2014 in San Mateo, California. Riane Eisler is an author, the President of the Center for Partnership Studies, a keynote speaker at conferences worldwide, a consultant for governments and businesses, and a pioneer for the extension of human rights to "women's rights" and "children's rights." Riane's most recent book, The Real Wealth of Nations: Creating a Caring Economics, shows that behind our most pressing personal and social problems lies the failure of present economic systems to value and support the most essential work of all—the work of caring for people and nature. Riane joins Speak Up! to reveal a few key points from this book, which she will expand on more when she speaks at the New Living Expo.
Click Here to Attend the New Living Expo!
PLUS, Click Here to Listen to a Special Message from the New Living Expo!