The film, SIDE EFFECTS, is a jagged little pill.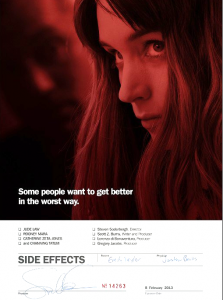 Today's host, Danielle Winston, speaks with the panelist, Denise Goins, about the  psychological thriller, SIDE EFFECTS, at Stand 4 Restaurant near Union Square in New York City.
Rumored to be director, Steven Soderbergh's final cinematic endeavor, SIDE EFFECTS, is a fitting but, complexly intricate swan song that concludes the long and illustrious career of the man who put the indie film genre in the conscious mind of the mainstream. With a screenplay written by Scott Z. Burns, this story is so deeply entrenched with twists, that just as you sense the film may be nearing its end, it continues on a dramatic and wild journey.
To learn more about today's film, Side Effects, our host and panelist and Stand 4 Restaurant, visit our website.
Follow us on twitter.
Follow us on Facebook to keep up with the latest daily news about women in film.
Connect with us on your mobile at www.letstalkfilm.com