The film, SIDE EFFECTS, is a jagged little pill.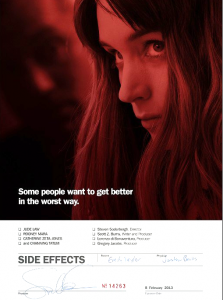 Today's host, Danielle Winston, speaks with the panelist, Denise Goins, about the  psychological thriller, SIDE EFFECTS, at Stand 4 Restaurant near Union Square in New York City.
Rumored to be director, Steven Soderbergh's final cinematic endeavor, SIDE EFFECTS, is a fitting but, complexly intricate swan song that concludes the long and illustrious career of the man who put the indie film genre in the conscious mind of the mainstream. With a screenplay written by Scott Z. Burns, this story is so deeply entrenched with twists, that just as you sense the film may be nearing its end, it continues on a dramatic and wild journey.
To learn more about today's film, Side Effects, our host and panelist and Stand 4 Restaurant, visit our website.
Follow us on twitter.
Follow us on Facebook to keep up with the latest daily news about women in film.
Connect with us on your mobile at www.letstalkfilm.com
The concept for the film review series, "let's talk film" was born out of an observation (and frustration) of the absence of women reviewing film in the news media. "let's talk film" offers contemporary women of all backgrounds and ages an opportunity to collectively review and discuss the various aspects and related issues of all types of current film releases. Utilizing New York City as our backdrop, each episode features panelists from a rotating roster who come together at intriguing venues in and around New York City to discuss these films. Discover more at www.letstalkfilm.com Denise Goins is the founder and creator of "let's talk film." She has worked in the broadcast industry as a production designer, motion graphics artist, producer and editor for over ten years at the CW Network, Democracy Now!, ABC as well as the networks of CBS, CNN and the Fox Business Network. In addition, she collaborates on numerous post-production and editing projects for the national and international media.  Learn more about her at www.letstalkfilm.com/about.
Web
|
Twitter
|
Facebook
|
More Posts (3)