Les Miserables is a film best served with passion.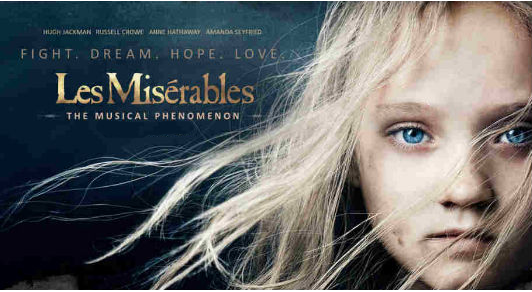 Shoshi, today's host converses with our panelist, Gerit Quealy at Eva's Supplements and Health Food Store located in the West Village in New York City about the current musical adaptation of  Les Miserables and to the review the comedic online short, Helping Hands.
Based on the historic 19th century French novel written by Victor Hugo, this is the cinematic adaptation of the long-running, multi-award winning musical phenomenon known as Les Miserables. With a screenplay collaborative by William Nicholson, Alain Boublil, Claude-Michel Schonberg and Herbert Kretzmer and directed by Tom Hooper, the film steps into a world of splendid wonder hard to achieve on the theatrical stage.
To learn more about today's films, our panelists and venue, visit our website.
Follow us on twitter.
Follow us on Facebook to keep up with the latest daily news about women in film.
Connect with us on your mobile at www.letstalkfilm.com
The concept for the film review series, "let's talk film" was born out of an observation (and frustration) of the absence of women reviewing film in the news media. "let's talk film" offers contemporary women of all backgrounds and ages an opportunity to collectively review and discuss the various aspects and related issues of all types of current film releases. Utilizing New York City as our backdrop, each episode features panelists from a rotating roster who come together at intriguing venues in and around New York City to discuss these films. Discover more at www.letstalkfilm.com Denise Goins is the founder and creator of "let's talk film." She has worked in the broadcast industry as a production designer, motion graphics artist, producer and editor for over ten years at the CW Network, Democracy Now!, ABC as well as the networks of CBS, CNN and the Fox Business Network. In addition, she collaborates on numerous post-production and editing projects for the national and international media.  Learn more about her at www.letstalkfilm.com/about.
Web
|
Twitter
|
Facebook
|
More Posts (3)