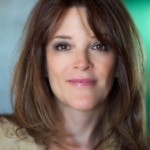 Marianne Williamson is a name recognized by those who consider themselves spiritual, seekers and/or have been on a path of personal growth. Most easily know for her work with the Course in Miracles, Marianne has written 10 books with 6 on the New York Times Best Seller list.
When an individuals chooses to become aware, conscious, and loving, they are eventually required to look at all of the aspects of life and of the bigger community. The results of a country culture of competition and greed are many forms of entrapment and lack. For those who have experienced how love changes forms, acknowledging these forms that do not serve is critical. The next step we are called to take are conversation from questions such as: "What can I personally bring to the table that will shift the outcome for my country?"
With this question in mind, SisterGiant will become a space for diolague and solutions. You will want to hear more and plan to be with Marianne and those who are joining her.
 Marianne Williamson in association with the Women's Campaign School at Yale University Presents:
Sister Giant:   New Consciousness  –  New Politics
November 10 and 11, Los Angeles, CA
What Can You Do?
Suggestion: Register to be in attendance at Sister Giant!
Invitation: If you cannot be in Los Angeles in November, register to be on a livefeedvia your computer
Invitation: Study with Sharon Riegie Maynard, mystic shawoman and be nurtured in personal retreats with her. More
Thanks to Kari Hillery for her marvelous music! One World Kari's website
And thanks to you for being in the audience. Without you, Weaving the World would not exist!