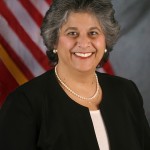 "There is no such thing as being non-political. Just by making a decision to stay out of politics you are making the decision to allow others to shape politics and exert power over you. And if you are alienated from the current political system, then just by staying out of it you do nothing to change it, you simply entrench it."
 Joan Kirner
 Barbara Anne Ferris shares her passion of helping women change their world through being politically savvy.
"Recognizing at the age of 12 that my mother was were doing "Double Duty" – managing family and households, keeping peace with the relatives and earning a living …I believe that if women would ran the world as a better place for everyone.  With the goal of equity, I have dedicated my career to empowering women worldwide with the skills to ensure that they have a voice in the very policies which impact their daily lives.  I am now working on a project to train 30,000+ women in 30 countries with 30 NGOs across Africa how to run for office using mobile technology.
"My greatest joy is witnessing a woman win her election from an emerging democracy!"
Barbara Anne Ferris encourages women to take actions by holding hands with projects and individuals who want to be at policy making tables.
Her work to establish IWDC in 1995 was inspired by the women in the former Soviet Union.  Women understood that with the "Fall of the Wall" they needed to have a seat at the policy and decision making tables in their new government – but they just did not know how to do it.
International Women's Democratic Center
What Can You Do?
Suggestion: Consider what being political savvy can add it to your world and check out IWDC's programs.
Invitation: Read the Living Declaration that the Founding Mothers created at the March 2012  Women's Grassroots Congress  Then, join the Intentional World of the EGG.
Invitation: Click my comment link and let's initiate some great conversations
Invitation: Study with Sharon Riegie Maynard, mystic shawoman and be nurtured in personal retreats with her. More
Thanks to Kari Hillery for her marvelous music! One World Kari's website
And thanks to you for being in the audience. Without you, Weaving the World would not exist!