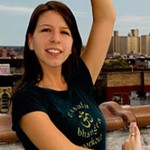 As a classically trained dancer and trained musician, Mickela Mallozzi founded Travel Bare Feet after being inspired by folk dances from all over the world. Originally an assistant to a famous metal rock band, she realized that she was working in a creative industry but not being creative.
After quitting she journeyed the world with her camera to follow dance in everyday lives. Today she is the host of the Bare Feet Web Series and the Travel Bare Feet blog.
Mickela speaks about where her passion for dance originated, her training from the age of 3 and her quest to bring people back to the origin of dance.