Interview with world authority on obesity, Dr James Hill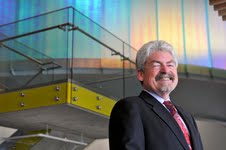 Did you know that 100% of the US adult population is projected to be obese within two decades??!! Yes, you read that right – 100%. That includes you and us! With 2/3 of the U.S. adult population already overweight or obese, the trends are not good. Normal weight people are a minority. Unless current behaviors change dramatically, we are heading for a health catastrophe. Don't panic … yet! First, listen to our radio interview!
To learn what we can do to reverse these trends, we went to the leading scientist and researcher in this field, Dr James Hill. Not only is Dr. Hill co-founder of the National Weight Control Registry, but also he serves as Founding Executive Director of the Anschutz Health and Wellness Center at the University of Colorado Anschutz Medical Campus.
Fortunately he and his colleagues have developed strategies to turn the obesity tide. How can we go from thinking of weight loss as restrictive and depriving to a mindset of health and smart choices? Is it possible to reduce obesity when so many factors are against us?
Listen in to glean the subtleties and strategies of how we can avoid a future of obesity.
Decide which of the three phases of weight you are in. You may be so inspired that you decide to visit state-of-the-art Anschutz Center to take advantage of the brain power, weight loss, and weight maintenance solutions and support there.
Want to pick Dr. Hill's brain about ways to lose weight or keep it off? Tweet him at @DrJimHill. Be nice though as he is new to twitter. Better yet, go to the Anschutz Center near Denver, CO. Be impressed and helped!
Help yourself even more by visiting us at FunandFit.org, our YouTube Channel, and on twitter: @KymberlyFunFit and @AlexandraFunFit. Can't wait that long? Try instagramming us: @KymberlyFunFit and @AlexandraFunFit.