If you haven't yet heard of Tabata training as one of the most time-efficient workout modes around, you soon will.
Tamara Grand, our guest today, hails from Canada, where she is well-known as a trainer, group fitness instructor, and online exercise leader.  Her success with this method prompted us to find out:
What exactly is Tabata training? And why the heck is it called "Tabata" anyway?

Can Tabata training really deliver results in just 4 minutes?

Who is Tabata training for? Are there people who shouldn't be doing it?

What are some of Tamara's favorite Tabata exercises and why?
If you are looking for a full-body workout you can do anywhere, anytime with no equipment needed, then this interview will speak to you. If you want to be sure you are getting a true Tabata workout and not one of the generic versions out there, listen in to be in the know.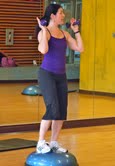 Tamara Grand lives in beautiful British Columbia Canada with her husband, three children, a ginger cat and a large stash of hand-dyed yarn. She believes exercise and healthy eating need to be part of everyone's life and aims to inspire and motivate others by showing them that if she can do it, anyone can. She blogs about fitness, food, family and fiber (knitting fiber, that is) at fitknitchick.com and is always thrilled when you comment on her posts. Please follow her on Twitter @fitknitchick_1. She follows back (unless you're a spammer or a blogger with a corny sense of humor).
See more of her workouts, videos, healthy living advice over at fitknitchick.com.
Subscribe to Tamara's YouTube channel where you can exercise along with her.
While you're at it, subscribe to our Fun and Fit YouTube channel. Connect with us via twitter: @AlexandraFunFit and @KymberlyFunFit. We actually follow back and reply!
And as always, we appreciate you getting your fit groove on and subscribing to our blog, Fun and Fit.