If you haven't yet heard of Tabata training as one of the most time-efficient workout modes around, you soon will.
Tamara Grand, our guest today, hails from Canada, where she is well-known as a trainer, group fitness instructor, and online exercise leader.  Her success with this method prompted us to find out:
What exactly is Tabata training? And why the heck is it called "Tabata" anyway?

Can Tabata training really deliver results in just 4 minutes?

Who is Tabata training for? Are there people who shouldn't be doing it?

What are some of Tamara's favorite Tabata exercises and why?
If you are looking for a full-body workout you can do anywhere, anytime with no equipment needed, then this interview will speak to you. If you want to be sure you are getting a true Tabata workout and not one of the generic versions out there, listen in to be in the know.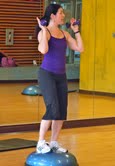 Tamara Grand lives in beautiful British Columbia Canada with her husband, three children, a ginger cat and a large stash of hand-dyed yarn. She believes exercise and healthy eating need to be part of everyone's life and aims to inspire and motivate others by showing them that if she can do it, anyone can. She blogs about fitness, food, family and fiber (knitting fiber, that is) at fitknitchick.com and is always thrilled when you comment on her posts. Please follow her on Twitter @fitknitchick_1. She follows back (unless you're a spammer or a blogger with a corny sense of humor).
See more of her workouts, videos, healthy living advice over at fitknitchick.com.
Subscribe to Tamara's YouTube channel where you can exercise along with her.
While you're at it, subscribe to our Fun and Fit YouTube channel. Connect with us via twitter: @AlexandraFunFit and @KymberlyFunFit. We actually follow back and reply!
And as always, we appreciate you getting your fit groove on and subscribing to our blog, Fun and Fit.
Identical twins and fitness pros Kymberly Williams-Evans, MA and Alexandra Williams, MAhave been in the fitness industry since the first aerobics studio opened--with them--on the European continent back when leg warmers and thong leotards were the rage. Their fitness experience spans 3 decades on land, sea, and airwaves.
Kymberly has taught fitness on 4 continents in 4 languages for 30 years to more than 10,000 exercisers. She is former faculty at
University California Santa Barbara
(UCSB) in the Department of Exercise & Sport Studies.
IDEA, the International Association for Health and Fitness Professionals
tapped her to serve as the inaugural editor for
Fitness Edge
, a publication devoted solely to group exercise leaders. Finally she knew enough people in the exercise world that she became a three-time nominee and finalist for IDEA's Program Director of the Year award. Kymberly also worked the mind attaining a Master's Degree in English. Her true specialty was conducting business writing seminars and helping professionals communicate more effectively in the business world. From hosting an international fitness TV program to serving as grammar expert on a live show, Kymberly has led, moved and grooved with energy and good grammar for all. Alexandra has been teaching, presenting and writing about fitness for over 25 years (since she was 7 and 1/2)! Currently on staff in the Exercise Studies Department at UCSB, she is also a contributing editor and writer for IDEA Health and Fitness Association's many publications. As an international presenter, Alexandra enjoyed her honeymoon in Venezuela after judging their national fitness championships. Alexandra has her advanced degree in counseling, which qualifies her to ask nosy questions of her two teens. Combining her love of words and the microphone, she has also had a successful run as a radio presenter, emcee and comedian. She loves to work, so she also writes for her blog and is a frequent guest contributor to a variety of blogs about business and health. Kymberly and Alexandra are also the Hosts of
Fun and Fit
on
WomensRadio
.
Fun and Fit
offers answers to audiences' fitness questions, shares Fun Fit Facts, faces Freak Out Fit Facts head on and helps listeners cut through the hype and fat to reach their fitness goals. Learn, laugh and live it up on your road to health and fitness!
Web
|
More Posts (97)