"Why work hard to undo the bad things we do to our bodies, when we can be proactive about doing good things for ourselves?"
So asks, John Basedow, creator of the best-selling Fitness Made Simple video series and one of the top infomercial stars of the past 20 years. John is also a spokesperson for Mr. Steam, makers of the world's most luxurious steam showers and baths. We caught up with him to discuss the effects of steam therapy on active bodies, just before he appeared on Bravo.
Listen in to decide for yourself whether John is not one of the most energetic speakers you have heard on air.  He also shares a secret about how he gets his clothes to look good. No ironing involved. And you get  insider tips on prepping for a photo shoot, the beach, or a day when you need to look your "vacuum-packed" best.
John also brings up the benefits you can reap via a nice, steamy bath or shower. Think you know them all? We didn't. Which of the following are true?
Steam therapy (whether a shower or bath) will:
cleanse your skin
open your pores
provide a cardio workout effect
improve your mental life and outlook
reduce stress
boost your metabolism
reinvigorate tired muscles
help you take quizzes better
The Fun and Fit  bonus question we pose: Steam bath or steam shower? Which is the true John Basedow?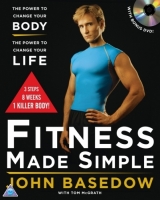 Follow John on twitter at @JohnBasedow. Join him on Facebook at https://www.facebook.com/JohnBasedow. Visit his website for exercise advice and motivation at FitnessMadeSimple.com
Take a peek at SteamTherapy to find out how you can live a high end, steamy, healthy life. You might recognize a couple of peopletwins over there!
Still looking for more good fitness sources? Our site (we humbly add): FunandFit.org, our YouTube Channel, and our twitter handles: @KymberlyFunFit and @AlexandraFunFit.
PS All of the listed benies are true except 3 and ???? Listen in to know for sure.
Identical twins and fitness pros Kymberly Williams-Evans, MA and Alexandra Williams, MAhave been in the fitness industry since the first aerobics studio opened--with them--on the European continent back when leg warmers and thong leotards were the rage. Their fitness experience spans 3 decades on land, sea, and airwaves.
Kymberly has taught fitness on 4 continents in 4 languages for 30 years to more than 10,000 exercisers. She is former faculty at
University California Santa Barbara
(UCSB) in the Department of Exercise & Sport Studies.
IDEA, the International Association for Health and Fitness Professionals
tapped her to serve as the inaugural editor for
Fitness Edge
, a publication devoted solely to group exercise leaders. Finally she knew enough people in the exercise world that she became a three-time nominee and finalist for IDEA's Program Director of the Year award. Kymberly also worked the mind attaining a Master's Degree in English. Her true specialty was conducting business writing seminars and helping professionals communicate more effectively in the business world. From hosting an international fitness TV program to serving as grammar expert on a live show, Kymberly has led, moved and grooved with energy and good grammar for all. Alexandra has been teaching, presenting and writing about fitness for over 25 years (since she was 7 and 1/2)! Currently on staff in the Exercise Studies Department at UCSB, she is also a contributing editor and writer for IDEA Health and Fitness Association's many publications. As an international presenter, Alexandra enjoyed her honeymoon in Venezuela after judging their national fitness championships. Alexandra has her advanced degree in counseling, which qualifies her to ask nosy questions of her two teens. Combining her love of words and the microphone, she has also had a successful run as a radio presenter, emcee and comedian. She loves to work, so she also writes for her blog and is a frequent guest contributor to a variety of blogs about business and health. Kymberly and Alexandra are also the Hosts of
Fun and Fit
on
WomensRadio
.
Fun and Fit
offers answers to audiences' fitness questions, shares Fun Fit Facts, faces Freak Out Fit Facts head on and helps listeners cut through the hype and fat to reach their fitness goals. Learn, laugh and live it up on your road to health and fitness!
Web
|
More Posts (97)