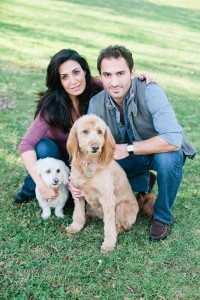 Dedicated pet owners, Aaron and Karine Hirschhorn love to travel and found that boarding their pets at kennels was expensive and stressful for all concerned. After hosting more than 100 dogs in their home, they opened Dog Vacay and now match traveling dog owners with dog sitters nationwide. They vet their home hosts extensively and offer a variety of tracking options through their pet lover friendly website: DogVacay.com.
More about Aaron and Karine:
Karine comes from a creative background as the founder of Act Write Direct Workshops and is an award-winning filmmaker. Aaron is a serial entrepreneur with a venture capital and private equity background. Prior to founding Dog Vacay, Aaron was a Principal at Monitor Ventures.
Indie Excellence award-winning author, scuba diver and speaker, Elaine J. Masters, grew up taking road trips. Inspired by a 6 month back-packing adventure, she's pioneered stress relief systems for travelers and commuters, to help them get where they're going feeling great. Her Drivetime Yoga techniques are being used by police officers, sales people and busy parents worldwide. Flytime Yoga was chosen as the hot idea by Meetings & Conventions Magazine. Travel tips at: TripWellness.com  Travel ease products at: DrivetimeYoga.com. When she's not working or on the road, Elaine gathers travelers together to learn and network at monthly Travel Well Meetups. She is the San Diego Meet, Plan, Go host and brings together travel writers and industry professionals at Travel Massive San Diego, a part of the global network of those working in the travel industry. As the host of The Gathering Road on WomensRadio, Elaine speaks with courageous travelers and travel experts, sharing their journeys of courage, passion and uncommon adventure. Follow Elaine: @tripwellness,  @goeasytravelwel and Facebook.
Web
|
More Posts (117)