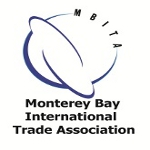 Alvaro Cabal Lachman 
has been involved with architecture, engineering, construction, real estate development and business consulting in Panama and the United States since 1993. He has worked for major influential companies, such as
Cable & Wireless
, which made Panama a telecommunications hub between North and South America, and
CH2MHill
, which currently manages the
Panama Canal Expansion
. In 2009, Alvaro founded
Nearshore Developments
, an international real estate development consulting firm. In 2012, he founded the
United States – Panama Business Council West
, which he currently runs, promoting business and investment between the two nations with an emphasis on global trade. Alvaro joins
Speak Up!
to discuss the benefits of California companies doing business with Panama, as well as how the United States – Panama Business Council West will be participating in the
Monterey Bay International Trade Association's
 (MBITA) upcoming
California Meets Panama Global Trade Connection Conference
. WomensRadio is excited to be a Media Partner for this upcoming Conference, which will be held on 
June 22nd, 2012 
at the 
San Jose City Hall Wing Building
 in San Jose, CA.
Click Here to Attend MBITA's Conference!