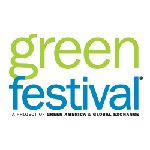 WomensRadio is delighted to once again be a Media Partner for the
Green Festivals
!  There are several Green Festivals throughout the year but just around the corner is the
New York Green Festival
, which will take place
April 21st and 22nd, 2012
at the
Javits Center
, New York, NY
.  
Denise Hamler
is the Executive Director of the
Green Business Network
at
Green America
(formerly Co-op America), which was established in 1982 and is the oldest, largest and most diverse association of socially and environmentally responsible businesses.  As Co-founder of Green America (120,000 consumer members), Denise has held senior positions in the marketing and publications divisions and serves as the publisher for
National Green Pages
,
Real Green
and
Green America Quarterly
.  In 2002 Denise launched the successful Green Festivals, a joint project with
Global Exchange
. She currently serves as the Director of the Green Festivals where she produces the
Green Business Conferences
and biannual conferences for the green business sector. Denise joins
Speak Up!
to talk more about what attendees can look forward to at the upcoming New York Green Festival!