Fun and Fit interview award winning water instructor, Margie Caldwell Cooper about the benefits of aqua Pilates
I (Kymberly) met Margie Caldwell Cooper in Mexico at  Rancho la Puerta Health Spa when I hopped into the water to take my first-ever Pool Pilates class. Margie's class was so fantastic we had to get her on the air to share more about Aqua Pilates and its benefits.
Questions we pose her in this radio episode:
Why "Pool Pilates?" Is there a good reason to do Pilates in water instead of staying dry on land?

What are some of the differences between land and water Pilates besides the obvious of dry vs wet; vertical vs horizontal? What clever adaptations can participants expect?

Do the workouts occur in deep or shallow water? If deeper than the chest, do people need to know how to swim?

For people with a pool at home, how can they  pursue a Pool Pilates workout? (Spoiler alert: You can get

DVDs

for both shallow and deep water from Margie and Hydrofit.com.  We love the name of her shallow water workout,

Liquid Abs)

.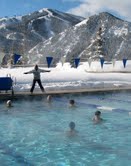 Originally a competitive swimmer, Margie is an award-winning Water Fitness instructor, with a long history as a fitness educator on land and in the water. When not traveling the country training other instructors, she has the enviable life of alternating between Rancho la Puerta and Sun Valley, Idaho where she brings her fusion programs to lucky clients and guests. She is also part of the HydroFit team.
Her key to success with bringing Pilates into the pool was to take the 5 Pilates Principles (also known as "tasks") and adapt them to the buoyant environment.
Her key tip to water exercisers?: Push and Pull as much water as possible.
Our Fun and Fit wet and wild tip? Talk with us on twitter @AlexandraFunFit and @KymberlyFunFit; Subscribe to our YouTube channel and Fun and Fit blog.