Fun and Fit interview award winning water instructor, Margie Caldwell Cooper about the benefits of aqua Pilates
I (Kymberly) met Margie Caldwell Cooper in Mexico at  Rancho la Puerta Health Spa when I hopped into the water to take my first-ever Pool Pilates class. Margie's class was so fantastic we had to get her on the air to share more about Aqua Pilates and its benefits.
Questions we pose her in this radio episode:
Why "Pool Pilates?" Is there a good reason to do Pilates in water instead of staying dry on land?

What are some of the differences between land and water Pilates besides the obvious of dry vs wet; vertical vs horizontal? What clever adaptations can participants expect?

Do the workouts occur in deep or shallow water? If deeper than the chest, do people need to know how to swim?

For people with a pool at home, how can they  pursue a Pool Pilates workout? (Spoiler alert: You can get

DVDs

for both shallow and deep water from Margie and Hydrofit.com.  We love the name of her shallow water workout,

Liquid Abs)

.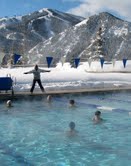 Originally a competitive swimmer, Margie is an award-winning Water Fitness instructor, with a long history as a fitness educator on land and in the water. When not traveling the country training other instructors, she has the enviable life of alternating between Rancho la Puerta and Sun Valley, Idaho where she brings her fusion programs to lucky clients and guests. She is also part of the HydroFit team.
Her key to success with bringing Pilates into the pool was to take the 5 Pilates Principles (also known as "tasks") and adapt them to the buoyant environment.
Her key tip to water exercisers?: Push and Pull as much water as possible.
Our Fun and Fit wet and wild tip? Talk with us on twitter @AlexandraFunFit and @KymberlyFunFit; Subscribe to our YouTube channel and Fun and Fit blog.
Identical twins and fitness pros Kymberly Williams-Evans, MA and Alexandra Williams, MAhave been in the fitness industry since the first aerobics studio opened--with them--on the European continent back when leg warmers and thong leotards were the rage. Their fitness experience spans 3 decades on land, sea, and airwaves.
Kymberly has taught fitness on 4 continents in 4 languages for 30 years to more than 10,000 exercisers. She is former faculty at
University California Santa Barbara
(UCSB) in the Department of Exercise & Sport Studies.
IDEA, the International Association for Health and Fitness Professionals
tapped her to serve as the inaugural editor for
Fitness Edge
, a publication devoted solely to group exercise leaders. Finally she knew enough people in the exercise world that she became a three-time nominee and finalist for IDEA's Program Director of the Year award. Kymberly also worked the mind attaining a Master's Degree in English. Her true specialty was conducting business writing seminars and helping professionals communicate more effectively in the business world. From hosting an international fitness TV program to serving as grammar expert on a live show, Kymberly has led, moved and grooved with energy and good grammar for all. Alexandra has been teaching, presenting and writing about fitness for over 25 years (since she was 7 and 1/2)! Currently on staff in the Exercise Studies Department at UCSB, she is also a contributing editor and writer for IDEA Health and Fitness Association's many publications. As an international presenter, Alexandra enjoyed her honeymoon in Venezuela after judging their national fitness championships. Alexandra has her advanced degree in counseling, which qualifies her to ask nosy questions of her two teens. Combining her love of words and the microphone, she has also had a successful run as a radio presenter, emcee and comedian. She loves to work, so she also writes for her blog and is a frequent guest contributor to a variety of blogs about business and health. Kymberly and Alexandra are also the Hosts of
Fun and Fit
on
WomensRadio
.
Fun and Fit
offers answers to audiences' fitness questions, shares Fun Fit Facts, faces Freak Out Fit Facts head on and helps listeners cut through the hype and fat to reach their fitness goals. Learn, laugh and live it up on your road to health and fitness!
Web
|
More Posts (97)