About Carina Press & Angela James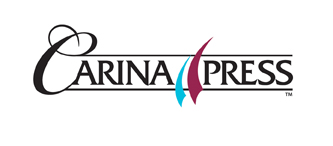 Angela James is the executive editor of Carina Press, Harlequin's digital-first imprint, and a veteran of the digital publishing industry.
Angela is a long-time advocate for digital publishing. She has enjoyed nearly a
decade of experience in digital publishing, including successfully launching, building and serving as executive editor for two digital-first presses.
Angela frequently travels to regional, national and international writing conferences to meet with authors and readers and to drag them to the digital dark side.
She's the creator of the online self-editing course, Before You Hit Send, which she offers
to authors at all stages of their writing career.
You can find Angela daily on both Twitter and Facebook.
About Arden Leigh
Arden Leigh is today's freshest voice on women's dating and relationship strategies.
She is a co-founder of the Sirens Seduction Forum for Women and the author of The New Rules of Attraction, which was released by Sourcebooks in Dec 2011. When she isn't writing or coaching, she enjoys being a part of the New York nightlife scene as a personality and performer.
She writes a regular advice column for Auxiliary Magazine and maintains her seduction blog.
She has been publicly labeled a "predator" and she took it as a compliment.
YOUR BOOK IS YOUR HOOK! SUPPORTS…
Project Night Night and their efforts to put a new or slightly used children's book in the hands of homeless children in shelters in the United States. Since 2005, they have hand-delivered more than 100,000 night night packages which include a stuffed animal, a blanket and a children's book tucked inside a canvas night night bag. We encourage you to find out how you can donate to support their efforts today.
Read to Feed is a reading incentive service-learning program that offers global education opportunities and will foster in your children a love for reading, a passion to help others and a way to help create a better world.
Radio show Host Jennifer S. Wilkov is a #1 international best-selling award-winning author and the creator of the From Thought to Sales in 90 Days™ Book Process. Jennifer has supported first time and seasoned authors and writers with the writing, getting published and marketing of their book ideas and projects as well as the building of their platform to raise their visibility to readers and the media. She is also an award-winning freelance writer (2009 Silver Eddie Award for an article featured in Marie Claire April, 2009 issue) who has been quoted and whose writings have appeared in national magazines and newspapers. Jennifer has sat on Boards of Advisors and spoken at major industry events including the New York Center for Independent Publishing, the American Society of Journalists and Authors, RT Booklovers Convention, Writers for New Orleans, Self-Publishing Book Expo and BookExpo America. Through the years, Jennifer's works have been endorsed by Jack Canfield, Mark Victor Hansen, Robert Allen, Barbara De Angelis, Treehugger.com, publicists, literary agents, publishers, many in the field of green book publishing, her martial arts Senseis in Shintaido and Aikido, and many more. Jennifer is also the Host and Executive Producer of the Your Book Is Your Hook! Show on WomensRadio. Your Book Is Your Hook! is designed to serve and support authors, writers and readers of books and other writing mediums. It showcases industry professionals and authors who share insights, experiences and wisdom about writing, marketing and publishing your book and beyond including Hollywood film, television, radio and more..
Web
|
Twitter
|
Facebook
|
More Posts (127)