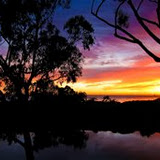 University California Santa Barbara (UCSB) is the pilot campus program for the Global Plastic Pollution Coalition, a world-wide alliance of individuals, businesses, public and private organizations working to build awareness and educate people about the complex problem of bad plastic pollution.
Plastic degrades into tiny toxic particles that never truly decompose into natural elements.  These tiny particles are changing the chemical composition of the oceans, getting into our food chain, causing illnesses in the human body and contaminating our environment.  Just drinking from a plastic bottle is toxic.  With long shelf lives, plastics chemicals can erode into the contained water.
Alyssa Hall is a third year student studying the major of Environmental Studies at UCSB and soon to be a published author  with another student, Mary-Sophia Motlow, and Professor Emeritus David Chapman, of a native algae field guide.  She joins us to discuss  UCSB's pilot Plastic Pollution Coalition activities.  She and her team are dedicated to building awareness on campus about pollution facts and eliminating the use of single-use plastic products on campus.
This past week of activities included  flash mobs to draw attention to recycling and a petition that growing numbers of students are signing to stop the use of plastics on campus.  Chancellor Yang participated by distributing the book Moby Duck by Donovan Hohn free to students.  Donovan Hohn will be visiting the campus on March 5 as a speaker for the well-respected Arts and Lectures series.
Future activities include the viewing on campus of a multiple international film festival award winning movie, Bag It!, and a Reusable Item Vendor Fair.  Already other universities across the USA, including Penn State, are expressing interest in joining the Global Coalition activities.
"Like" the Plastic Pollution Coalition Facebook page to participate with UCSB.  To learn more about the activities, visit the CoastalFund.org website.  For learning more about funding green initiatives on California campuses, visit SustainabilityCoalition.org.
Get UCSB's Plastic Pollution Coalition newsletter by emailing either UCSBPPC@gmail.com or CoastalFundOutreach@gmail.com.  Visit our own, Social Impact Marketing Facebook page, to join in the discussions about this episode and others on Socially Conscious Investing and bring a friend.
To learn more about the health of our oceans, listen to our past interview with Dr. Andrea Neal of Blue Ocean Sciences.  Watch the National geographic video, Plastic Plague on YouTube,  to learn more about the issue of global plastic pollution.