Sammy Shreibati, the January Y Gen Entrepreneur, is co-founder and Chief Technology Officer of SaveUp, a free rewards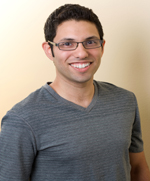 program to help people save money and get out of debt. Previously, Sammy was the Director of Engineering at PrepMe, an education company dedicated to bringing high quality, customized learning to students across the world. A native of San Francisco, Sammy graduated from Stanford University, where he studied Electrical Engineering with an emphasis on Computer Design.
Sammy joins Keeping Up with Gen Y to talk about how working first at a small business can be a good learning experience for Gen Y wanting to start their own companies. He also discusses how optimism and belief in yourself are keys to long-term success.